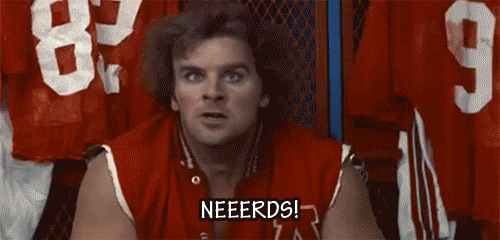 Wait, hang on, let me switch out of 80's movie mode. OK, N.E.R.D., that's what I meant. N.E.R.D. Naughty, Erotic, Romantic Doms is an anthology with 8 hot, sexy, funny, spanking stories by 7 authors. Golden Angel gets a double bite at the apple. The stories are all pretty short and the entire book is a super quick read. That means that you are going to only get my reactions to the stories, because I don't want to spoil anything. Trust me, you don't want me to spoil anything either.
Felicity Brandon-Zoe's Impetus
Poor Zoe, she's going to fail botany, but her professor decides to offer her a hand. I tell you what, if I had a professor like Neil, then I would probably have passed some of my maths classes. LOL. I would definitely think about switching my major to botany. Definitely seems to work as a good focusing method.
Jack Crosby-Of Demons and Nerds
I've never read a story that Jack Crosby has solo written. I've read a couple that he co-wrote with Jaye Elise, and they were pretty awesome, so I was really excited to read his story. Remember how I said that the stories in this book were funny? This was pretty much the funniest story. It's very tongue-in-cheek and self-referential. I'm definitely going to be tracking down more of his stories.
Katie Douglas-The Doctor's Companion
This is Katie's second entry on the blog today. Hi Katie! And I think this story is my favorite story. I love long multi-colored scarves, know what celery is good for, love Jelly Babies, think fezzes are cool, and love crotchety Scottish men. In short, I am a Whovian, so I may be predisposed to like this story, but it's all very spoofy, in the very, very best way. I have to say, if a man with a flying police box, whether it's red or blue, comes up to me and asks me to come with him, I'm forgetting the ice cream altogether.
Rue Raven-Walking Disaster
Rue Raven is another new one to me. I'll be tracking down more of her work, because I really enjoyed this story. I can relate to Grace. There are often disasters around me too, and I've done things like give myself a concussion by walking into a glass wall, and pulling my shoulder washing my hair. Yup. Graceful to a fault, that's totally me. I totally think good structure and ADHD medicine would help Grace a lot, as well as Jake's spankings. And I hope Gina chokes on her fake tits.
Golden Angel-Alien Online
This is Golden's first entry in the book. You know how they say you never know who's on the other side of the computer screen when you're talking to them? Well, sometimes you really don't know who's on the other side of the screen. Let's just say, I'm up for this kind of probing.
Sassa Daniels-Elise in Wonderland
Yeah, not everyone is into video games and comic books, and there are a lot of purists out there who are disconcerted by seeing how something they love has been changed to suit pop culture. Not that I've ever sat and nit-picked a movie for costuming or sword fights or anything. No really, I haven't. And I don't have any co-workers who are going to take me to task for it either. Although, I think Elise should've gotten a little pass, because the guy was asking for it.
Morganna Williams-The Mugged and the Restless
Clueless boss and focused assistant is a pretty common trope. However, Morganna kind of flips it around and turns it into something a little different. Personally, I really like Morganna's version better than I like some of the others I've seen. And I think pocket protectors are completely overrated. I get why people wear them, they have a use, but still, who wants them?
Golden Angel-Cosplay Connection
Hi, my name is Clara and I went to cons when I was younger. I cosplayed back before they called it cosplay. Yeah, I'm talking OMG, 25+ years ago. Fuck, I'm old. There are no pictures of it anymore, but I used to dress up like Death from Neil Gaiman's Sandman. I rocked it. And I totally rocked the cloak I wore. Damn, I miss those days. Of course, the cons I went to weren't all that big, and I don't think one of them exists anymore. I don't remember any of the cons I ever went to having speed dating, but I suppose it could've happened. I did have a con hookup that turned into a long-term relationship. It wasn't as good as this one though. I would definitely have preferred Diana's hookup.
OK, that's what you're getting from me about N.E.R.D. Go check the book out! Fun, quick, easy, sexy reads. Perfect for that 20 minute break.